Speaking of kangfu food, shen cheng people are very familiar with kangfu brand with the growth of two generations of shenyang people, especially the old taste of the old kangfu moon cakes, but also shen cheng people during the Mid-Autumn festival unforgettable food memory. Over the past 30 years since its establishment, the remarkable achievements in mooncake products have stopped the progress of kangfu people. In the current situation that people pay more more attention to food safety, kangfu food, known for its attention to product quality safety, is racing against time to bring a series of innovative products developed by the company to the market.
Since the launch of kangfu pancake series products in 2014 by shen cheng consumers warmly pursue, kangfu food in the field of pasta research development is also deepening, steamed bun, steamed stuffed bun, Fried dough sticks, rou jia mo, noodles, bean paste, dumplings, hair cake other dozens of pasta products have been launched. On the modern assembly line, the "chefs" of kangfu food have been working intensively to make the ancient pasta dishes show different vitality offer delicious, nutritious, healthy safe pasta products to the citizens of shencheng.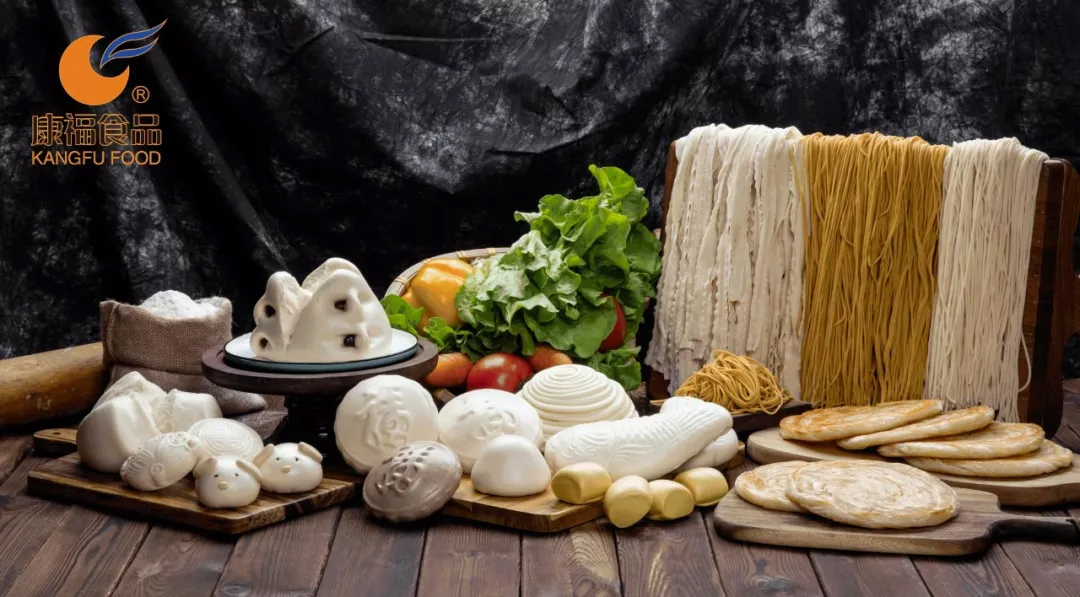 Kang fu noodle, a real gift
As the saying goes, food is the most important food for the people, half of the staple food is taken up. For the northern people who love the noodle food, the noodle food in the staple food takes up a large proportion. However, in the fast-paced modern life, people have little leisure time to make their favorite pasta products carefully. Kangfu food has been paying attention to food safety spread of delicious food, adhering to the principle of "only good raw materials, good products", constantly pursuing fine technology, cultural characteristics, nutrition health details. Kangfu food research development team will be engaged in more than 20 years of pastry experience, technology modern elements into the traditional pasta, with authentic taste, convenient eating methods, exquisite modeling, safe quality to win the love of consumers.
In the traditional taste of pasta category development of the school, kangfu people have a textbook general rigor perseverance. Whether it is full of mother's taste, crispy delicious flapjack, shandong characteristics of the flavor of the handmade steamed bread, whether it is sweet soft sweet bean bag, full of childlike rabbit noodles...... Kangfu traditional pasta is an indispensable delicacy on the table.
Every New Year, kangfu food has launched a variety of noodle gift box, the gift box with a variety of pasta products, to create a different festive food shape, including every year there are fish, jade rabbit cheng xiang, silver roll, etc., for the New Year table added infinite fun. Kang fu pastry gift box, is a filial piety parents, visit relatives friends of the exquisite quality of hand gift.
Old taste pastry, warm taste
Kangfu food has been to inherit carry forward the extensive profound Chinese food culture as its own mission, heritage development of traditional food, moon cakes, dumplings to a variety of old taste of cakes, kangfu food is the industry leader, by the people of shen cheng.
Remember grandma's snack box when you were a kid? They may be delicate, but they have the warm taste of childhood. The old taste pastry gift box kangfu food is to bring back the taste memory of childhood. There are more than ten kinds of products in the gift box, such as authentic, soft fragrant old style cakes, eight Beijing cakes with flavor mellow taste, sachima with manchu traditional food so on. Kangfu old taste cakes restore people's childhood cake box memory, but also use modern health formula production process baking processing, ingredients adhere to "low sugar, low fat, low cholesterol", is filial piety children's choice. Kangfu old taste packaging taste elegant, traditional meaning profound, more traditional charm; Its inside taste is various, dim sum appearance is beautiful, the pattern is much, colour lustre is transparent, already look beautiful generous, pleasing to the eye the eye, eat up the mouthfeel is crisp loose, the stuffing heart is exquisite, sweet sweet waxy, distinctive flavor, it is the choice of children filial piety old man.
As a rare old brand brand in shen city, kangfu food pastry series with the taste of "old" old taste of home to today. With the continuous improvement of the production process, kangfu food selects high-quality raw materials bakes them by heart. While keeping pace with The Times, its pastry series never forget its original intention stick to the old taste taste, which is a commitment of kangfu to the old customers, but also a kind of emotional care for the old shenyang people, is a kind of feelings for the hometown, is a spread of "Chinese taste"! Even if the time is no longer, even if you are in a foreign country, still let you chew the taste of home.

Three meals a day, all accompanied by health
After years of development, kangfu food has become a leading food processing enterprise in northeast China. Its product line covers more than 200 varieties of mooncakes, zongzi, bread, pastries, pastries, organic agricultural products other categories. Enterprise has passed ISO9001 quality management system certification ISO22000 food safety management system certification, has won the "China well-known trademark", "liaoning province famous trademark", "liaoning province famous brand products", "liaoning province assured food", "shenyang specialty", "Chinese famous cake", "Chinese imperial cuisine food research development base" hundred items, such as honor title, is the first enterprises of shenyang baked goods through "green food" certification of enterprises.
Today, relying on the abundant technical force excellent product quality, camfrog food making up the staple food processing distribution center, the main production involves the noodles, steamed stuffed bun, twisted dough-strips, meat clip buns, cakes so on more than 30 early Chinese food products, distribution center is now more than 100 units more than 40 a storefront services, to provide convenience hygiene, the shen city common people affordable staple food distribution services.
Future comfort food, will become the people's peace of mind kitchen! Just as the chairman of kangfu food Mr. Ding wei looks forward to, devote all his life to build a healthy, happy food kingdom! Let the citizens of shencheng three meals a day, will be accompanied by health good food!