"Develop pasta industry, innovate healthy life". Over the past 30 years, kangfu food has deeply cultivated the field of baking pasta, inherited the classic pasta culture, created high-quality products with ingenuity, continuously realized high-quality development. It has interpreted the persistence strength of a brand with professionalism concentration, demonstrated the intentions responsibilities of an enterprise with high-quality products services.
Based in the northeast of the country
Camfrog food was founded in 1989, adhering to the spirit seriously do the led the development of China's noodle industry is second to none in the northeast of central kitchen food processing enterprise integrated with production, research development, sales of Chinese western cakes, flour products, frozen food so on food enjoys a good reputation, the partial products have been exported to overseas.
With advanced food production equipment, unique technology, a complete range of products, kangfu has only inherited the traditional pasta production experience, but also continuously led the innovation in the field of pasta, always paying attention to consumer demand, providing the public with hundreds of fresh, safe, nutritious, healthy, convenient fast food! Now, kangfu product line covers more than 400 varieties of 12 series of the three major categories, provides more than 200 varieties of pasta products for people's dining tables, leading the new trend of healthy diet!
Our persistent efforts have won the recognition trust of consumers. "Executive mooncakes national standard demonstration enterprise", "Chinese bread, pastry excellent brand enterprises", "national imperial cuisine food research development base", "China well-known trademark", "liaoning province famous trademark", "liaoning province famous brand products", "liaoning province assured food", "liaoning province residents balanced diet research development base", "food nutrition research development base of primary middle school students in liaoning province" so on more than hundred honorary laurel followed, enhance brand influence.
Gold brand quality industry model
Flour products are the representative of Chinese food culture, in the field of noodle making, kangfu food to the highest level of pasta - noodles road spirit, will do the best pasta!
Good pasta cannot be separated good technology. Kangfu food invested tens of millions of dollars in equipment production room, domestic advanced modern production equipment, unique production process, textbook production process, corresponding to the standardized production data meticulous research spirit, kangfu refined surface process for the industry model!
Good pasta cannot be separated good quality. Kangfu food insists on taking people's health as the starting point, selects food materials with conscientious quality, all pasta products are refined with non-gmo wheat flour non-gmo edible oil, becomes a trusted dietary nutrition expert with experiential sales, consultative dietary advice expert cooking strategies.
Good pasta cannot be separated good products. mom's home-cooked pancakes to nutritious healthy noodles; delicious nutritious handmade steamed buns, steamed stuffed buns, dumplings other pastry, to authentic rou jia mo, youtiao, ma tuan other new products...... By virtue of its dedication dedication to food, kangfu food constantly develops new categories new tastes to meet people's demand for healthy food for three meals a day.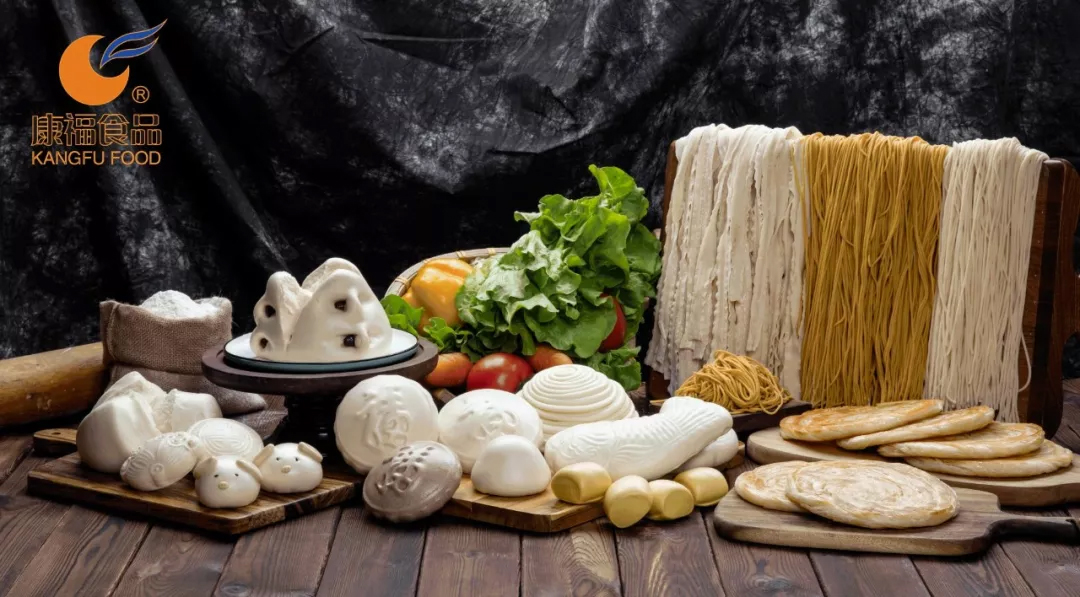 Quality of life concomitant health
Noodles with a rich flavor of hand-rolled dough, golden crispy flapjacks, authentic taste of steamed stuffed bun, delicious dumplings...... Many people start their morning with confetti. Every family can enjoy the pasta products prepared by the expert chef for three meals a day.
Kangfu food adheres to the craftsman's spirit of making noodles seriously, ensuring that every piece of noodles in customers' mouth are vigorous refreshing, every piece of pancake in customers' mouth is fragrant, every mouthful of pasta in customers' mouth is delicious.
Kangfu noodles go through 18 processes of unique production, the whole process of automatic production, without adding any artificial colors food additives, the source to ensure the original noodles primitive flavor. At present, there are sliced noodles, hand-rolled noodles, fresh ramen, buckwheat noodles, alkaline noodles, pumpkin noodles, spinach noodles, carrot noodles, tea noodles, quinoa noodles, other dozens of categories, noodles soft tough, strong flavor, widely praised by consumers!
With a crispy golden outside a soft, white interior, kangfu flapjacks are a staple on countless family tables. just flapjack, hair pancake, sinew cake, sesame sauce cake, sugar cake... These cakes can be found in more than 40 kinds of cake products of kangfu foods.
Kangfu steamed stuffed bun, dumplings, roujiamo other pasta products, the choice of fine, fine production, taste authentic, is the first choice of thousands of families delicious food!
Kangfu food's wish is to become a professional intimate kitchen noodle supplier noodle expert in thousands of families! Kangfu food will uphold the ingenuity, conscience heart of food people, fresh, healthy, nutrition, rest assured, convenient food to every family!
Well-being of the world, with the blessing of love! Quality of life, concomitant health!